Introduction
This Year's Theme: Applying the Science of Learning to Teaching Introductory Psychology
Psychology is popular. Millions (yes, millions) of students take an Introductory Psychology course each year, but only a fraction of these students will go on to major in psychology. This provides General Psychology teachers a unique challenge and opportunity to share the value of our academic discipline to students on diverse academic pathways.
TIP Northwest 2016 will focus on how the science of learning can be utilized and conveyed by introductory psychology instructors to help students thrive in the classroom, and as employees and global citizens. A significant portion of this conference will be reserved for registrant interaction in order to work out ideas presented by our keynote speakers. Registrants will also be provided the opportunity to share and observe teaching activities that fit our theme of "Applying the Science of Learning to Teaching Introductory Psychology".
Questions? Please email tipnw@highline.edu with any questions you may have about the conference.
Speakers
Susan A. Nolan
Susan is a professor of psychology at Seton Hall University in New Jersey. Susan received her A.B. from the College of the Holy Cross and her M.S. and Ph.D. from Northwestern University. She is Past President of the Eastern Psychological Association (EPA) and a Fellow of EPA, the American Psychological Association, and the Association for Psychological Science. She is coauthor (with Sandra E. Hockenbury and Don H. Hockenbury) of Psychology and Discovering Psychology and (with Thomas E. Heinzen) of Statistics for the Behavioral Sciences and Essentials of Statistics for the Behavioral Sciences. Susan recently returned from Bosnia and Herzegovina where she was researching psychology higher education as a U.S. Fulbright Scholar.
Regan A. R. Gurung
Regan is the Ben J. and Joyce Rosenberg Professor of Human Development and Psychology at the University of Wisconsin, Green Bay. He has received numerous local, state, and national grants for his pedagogical, health, and social psychological research and has published over 120 articles and book chapters in a variety of scholarly outlets journals including American Psychologist, Psychological Review, and Teaching of Psychology. He has a textbook, Health Psychology: A Cultural Approach, and is also the co-author/co-editor of 12 other books. He loves talking about teaching and has made over 100 presentations and given workshops nationally and internationally (e.g. Australia, India, Saudi Arabia, Canada, New Zealand).
A dedicated teacher he has won some awards: The CASE Wisconsin Professor of the Year, the UW System Regents Teaching Award, the UW-Green Bay Founder's Award for Excellence in Teaching as well as the Founder's Award for Scholarship, UW Teaching-at-its-Best, Creative Teaching, and Featured Faculty Awards. A Fellow of the American Psychological Association, the Association for Psychological Science, and the Midwestern Psychological Association, he has served as President of the Society for the Teaching of Psychology and is the founding Co-Editor of APA's journal SoTL in Psychology.
Agenda
8:00am
Registration & Breakfast
8:45am
Welcome
9:00am
Susan Nolan, Seton Hall University
Scientific Literacy in Intro Psych: Lessons from Around the World
10:00am
Round Table Discussion – Response to Dr. Nolan
10:30am
Break
10:45am
Voices – On the Teaching of Psychology
12:00pm
Round Table Discussion – Response to Voices
12:30pm
Lunch
1:30pm
Regan Gurung, University of Wisconsin
Be F.I.R.M.: Evidence-Based Guidelines to Enhancing Intro Psych
2:30pm
Round Table Discussions – Response to Dr. Gurung
3:00pm
Break
3:15pm
Voices – On the Teaching of Psychology
4:30pm
Round Table Discussion – Response to Voices
5:00pm
Closing Remarks, Wine and Cheese Social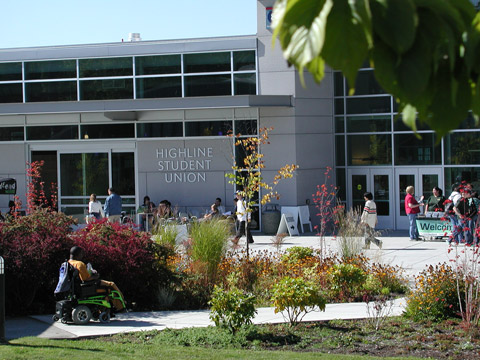 Location & Lodging
Highline College is located on the Puget Sound, just south of Seattle. The conference will be held in the Mt. Constance Room on the ground floor of Building 8 (see map).
Highline College
2400 S 240th St.
Des Moines, WA 98198
Parking
Conference parking is available in the East Parking Lot (see map). A yellow parking kiosk near the main entrance (Building 6) will issue a day pass for $1. You can use cash or card. Display this pass in your car.
Hotel
Discounted hotel rooms can be booked at the Best Western Plus Plaza by the Green from Thursday, April 21st through Sunday, April 24th. To book a room with the $89.00 conference rate, you have two options:
1. Call the hotel at (253) 854-8767. Please let the guest service agent know that you would like to reserve a room from the TIP Northwest Conference in April.
2. Click this link, then select the dates of stay and room type. A credit card is required to hold the reservation, but the card will not be charged until your arrival.
There is a free shuttle service between the airport and the hotel, and between the hotel and the conference. Shuttle hours are from 4:00 a.m. to 11:00 p.m.
Best Western Plus
Plaza by the Green
24415 Russell Road
Kent, WA 98032
Reservations: (253) 854-8767
Registration
TIP Northwest has received generous support from Washington State Board for Community and Technical Colleges, APS, STP, APA, Macmillan Education, and Highline College. Conference fees ($50) include conference registration, meals, and a wine and cheese social.
To register for TIP Northwest, please fill out the registration form [right]. Then, pay conference fees through Paypal by clicking the button below. If you have never used paypal to make a payment, it's secure and easy! Simply follow the prompts, register for an account, and use your credit card to make a payment.
Registration Deadline: Friday, April 8th
If you do not wish to use paypal for this conference, please send a check to TIP Northwest.
TIP Northwest
c/o Garth Neufeld
Highline College
2400 S 240th St, 11-208
Des Moines, WA 98198
wiki
The TIP Northwest wiki is a place for conference registrants to share resources for the teaching of General Psychology. You will find conference materials, including documents and slides from our keynote speakers, uploaded here. Feel free to add your tools, strategies, and ideas.
who we are
TIP Northwest is a non-profit organization that exists to support teachers of Introductory Psychology in the Pacific Northwest. Through local collaboration and by hearing leading voices on the teaching of psychology, we hope to bring fresh perspectives, strategies, and inspiration to General Psychology teachers.